Holocaust Remembrance Day (Yom HaShoah)
Since 1991, the Beckley community and has come together to remember those who died in the Holocaust and other genocides. For the first five years, the Yom HaShoah service was held at Temple Beth El, a local Reform Jewish synagogue. The beginnings of this local service were inspired by the story of the late Max Lewin (1918-2002) who was imprisoned in Nazi concentration camps in Russia and Germany. Although a survivor, Max lost his parents, wife, one brother, and two sisters to the systematic extermination practices of Hitler's regime.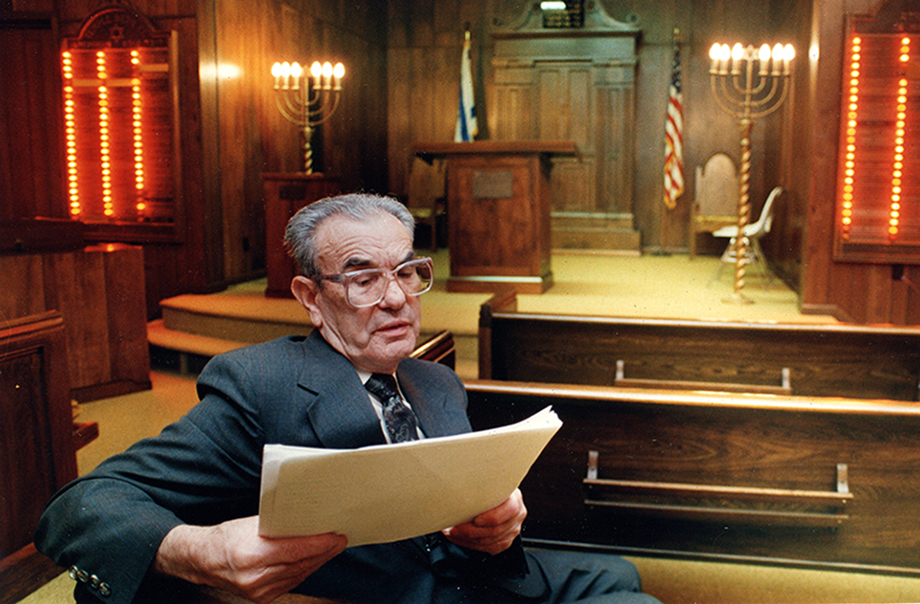 Max Lewin prepares to read the names of Holocaust victims during Beckley's first Holocaust Day of Remembrance in 1991
Photo courtesy of the Register-Herald
After the dedication of the Lewin Family Bell Tower in 1996, the services were held on the campus of the local university and it became a community event with Max taking part in every service through 2002 — the year of his death. As a tribute to Max Lewin and his family, the tradition continues.
As with previous years, the program varies its primary focus. This year, to honor the one-hundredth anniversary of the birth of Max Lewin, we will be showing a very special video. Recorded in 1996, Max Lewin discusses his story and the plight of his family. Originally intended for a television broadcast, Max requested that it not be shown until after his death. The Beckley community will have an opportunity to hear Max tell his story again via this never-before-seen video.
"The WVU Tech community is honored and humbled to be a part of this longstanding tradition. Our city – and indeed, our campus – is part of a tapestry of lives from all parts of the world, from many cultures and from many faiths. This type of vibrant community can only exist in a place of tolerance and in a place where compassion and reason are the light we use to move forward. This event is so important because it reminds us that our communities cannot flourish when that light goes out. We so glad to be part of this community and this powerful event."

Campus President Carolyn Long
We invite you to join us for this solemn occasion on Sunday, April 15, 2018 at 1:00 PM. The service will be held at Carter Hall on the campus of West Virginia University Institute of Technology at 322 South Kanawha Street in Beckley. Admission is free and open to the public. Please join us.